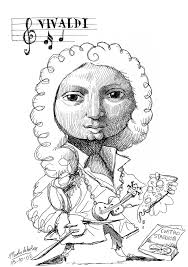 Vivaldi is considered one of the foremost Italian Composers of the Baroque Era. He was famous, well respected and made a comfortable living most of his life, but he died a pauper. That's the way it goes.
When little Antonio was born, the midwife who delivered him, baptized him right away. She wasn't sure he'd make it, and wanted to give him a fighting chance at the pearly gates. He did survive, of course, eventhough he was always quite sickly. Vivaldi took 10 years to get through his holy orders and when he did become a fully fledged priest, he hardly ever said mass. He cited his asthma as making it too difficult for him. Some biographers prefer to believe that he was always running off to joint down a musical idea, or that he was high up in the Venetian criminal underworld. You decide what works for you.
Vivaldi was a "ranger" and spent most of his life as a teacher of violin at "Ospedale della Pieta" – a school for orphaned girls. The Pieta was intended exclusively for girls and young women, many of whom were illegitimate offspring of concubines and mistresses of the wealthy and powerful. Most of the music Vivaldi composed was for his pupils at the orphanage. They would give recitals every sunday to standing room only.
In 1713, he turned his hand to Operas, 49 of which survived today. His first opera was "Ottone in Villa" with a libretto by Domenico Lalli (his real name was Sebastino Biancardi, but he change it after leaving Naples accused of embezzlement). He averaged nearly two operas a year, except "Tito Manilo" which he composed in 5 days. He made sure everyone knew this fact. Vivaldi even had the pleasure of composing an opera staring the infamous castrato Luigi Marchesi. Poor Vivaldi had no intention of writing an opera that started with the main character making an entrance on a horse, downhill, singing an aria written by someone else. But he had no choice.
Poor Vivaldi was a victim of identity theft.  Nicolas Chédeville, an otherwise uncelebrated musician of the era, fraudulently sold some of his own work as a series of original Vivaldi compositions during the late 1730s. The first of these pieces, "Il Pastor Fido," would ultimately become Chédeville's best-known composition. It is still performed to this day—and still, from time to time, incorrectly attributed to Vivaldi.
All in all, he composed about 450 concertos. Most of it lost. However, Turin University musicologist Alberto Gentili was presented with a box of incomplete, unsorted pages from hundreds of Vivaldi's compositions in the early 20th Century. He began a ten-year investigation to hunt down the remaining pages and place them in their original order. The end result: 319 complete Antonio Vivaldi compositions that had been lost to the world for nearly two centuries.
The explosion of new work from Vivaldi, gave his work a new public debut. It was as if Vivaldi had been born a second time. By the 1950s, his music held a unique place: he was acknowledged by scholars as one of the greatest and most influential classical musicians in history, but he was also seen by the listening public as fresh, mysterious, and unfamiliar. No other composer of similar prominence has experienced that kind of rebirth, and it's unlikely that any ever will.